Heat Exchanger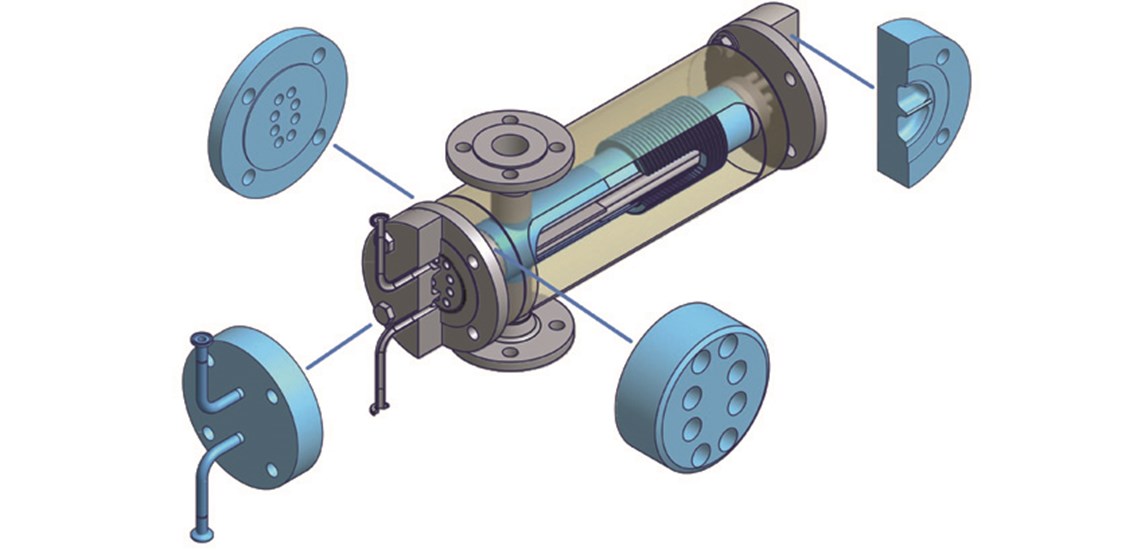 Operating principle
The construction of aseptic heat exchangers guarantees the greatest possible separation between the primary and secondary media.
Therefore, the heat exchangers are equipped with a double tubesheet, thus preventing any possibility of mixing and contaminating the processed products with the primary media.
The sterile primary media passes through seamless primary tube via the header and is cooled or heated by the secondary media.
Construction
NEUMO aseptic heat exchangers are always custom and process specific, thus satisfying the most challenging demands in compliance with your process parameters.
This flexible design reaches highest capacity through adjustment of tube lengths and numbers even if the flow rate is low. To avoid stress cracking caused by differential expansion rates, the outer housing of the heating/cooling chamber is fitted with a sophisticated and highly flexible stainless steel bellow section, guaranteeing operational safety and long life.
Features
strict separation of processing and cooling / heating media  (primary and secondary chamber)
high pressure and thermal shock resistance due to bellow  expansion compensation
less dead space
self-draining if correctly mounted
optimal cleanability / sterilisability (CIP / SIP)
defined internal surfaces up to Ra<0,4µm as well as optional  electropolishing on the primary side
quick assembly and disassembly through modular production
longstanding experience regarding efficient and customised   performance design
dual- or quad-flow construction where space is limited
horizontal or vertical installation
qualified sealing material for pharmaceutical areas
sealing with NEUMO ConnectS® (elastomer-free!),  NEUMO BioConnect®, DIN11864 or according to customer   specifications
standard material primary circuit: 1.4435 / 1.4404
special design in nickel-base alloys  (such as 2.4602 / 2.4610 / 2.4605)
insulation available in special materials